Tailbox Dolphin Carbon - Shipping Cost FREE!
Carbon Dolphin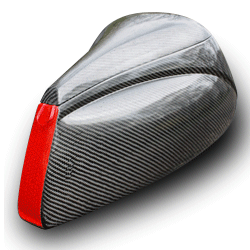 Shipping Cost FREE! - all world.

Tailbox details:
– material: Carbon + Epoxy resin
– weight: 1,3kg,
– safety easy lock ,
– self-locking hinge of lid,
– available in colors: Carbon black,
– dimensions on technical drowings here.
- 35L/9gal capacity
– Increases speed

Fit to seat: GS Easy, G Sport, Carrier
The shape of the tailbox improves your bike's aerodynamics and raises its speed and the additional cargo space allows you to take useful items while riding.
The case is screwed by 6 screws (included) to the back of the chair. Thanks to this, the air can flow freely around the tailbox.
You can feel as if the invisible force pushes your back. Improved aerodynamics help maintain constant speed while riding long distances or taking part in races. After opening the top lid you will get an access to a 35-liter load space. The lid automatically locks when it's opened so it doesn't have to be held. In addition, a special type of closure protects against accidental opening while riding even in difficult bumpy terrain.
To make sure your Dolphin tailbox will match your bike, take a look at the technical drawings available at the bottom of this parge.

If you have any doubts, write a message to us contact@thorseat.eu with a photo of your bike taken from the side and give us the wheelbase and we will prepare visualizations for you.
Mounting screws pack:Included