Seat Easy Fiberglass
Glass Gs Easy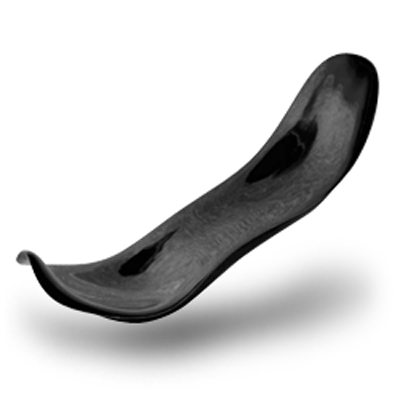 Seat fits into recumbent bikes:

Cruzbike: Vendetta V20, S40, Silvio, Q45
Bachetta: CA 2.0 Areo, CA 2.0 Team, Giro
Metabike, Optima Lynx, MetaPhysic, Schlitter Encore, M5 Zohrer, Velomotion, Volae, and any home build construction.
If you have any doubts about how to attach a seat to your bike, please see how others did it here.
Recommended degree: Sitting 35°- 60°
Material: Fiberglass, glass matt + polyester resin.
Sizes:
- Small 150-165cm. 4ft11in-5ft5in
- Medium 166-175cm. 5ft5in-5ft9in
- Large 176-190cm. 5ft9in-6ft3in
- eXtra Large 185-195cm. 6ft1in-6ft5in
Color: Black gelcoat, Type: Hardshell
Weight: 1.3kg +- 150g.
This model was designed to focus on a sitting position that is more upright. The main field of application for this product is based on construction where the leaning angle lies from 40° to 60° from the surface. A more upright sitting position allows a higher field of vision, giving "Easy" a great level of utility for a traffic- and tourism-based applications.
In order to avoid sliding of the seat "Easy" is equipped with a cambered bulge placed prior to the seat. For bicycles with stronger emphasis on sports, where a small amount of weight and low aerodynamic resistance is preferred, we recommend the model "Sport (G)"
If you possess a bicycle and experience sliding off your seat, we recommend to lower the leaning angle or use the "Easy" model.
For standard rider weight about 80kg +/-10kg. Rider over 90kg need Reinforcement seat (choose proply material core).
After order give us to known (using contact form) what is your weight, so we make reinforcement according to your weight .

Mounting screws pack:Included
Reinforcement
Yes, my weight is 85kg - 130kg. (15)